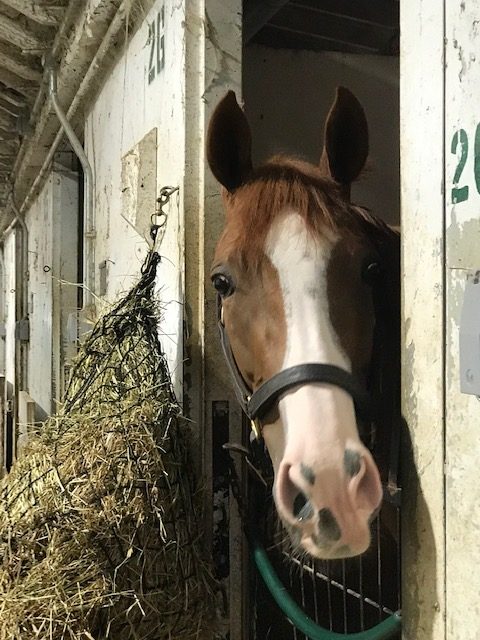 saturday was A Big Day!
I was looking forward to a reflection on "Reggae and Rainy Days" inspired by today's (Saturday's) episode at the barn… but this ruminating has been pre-empted by BIG NEWS: We Have a Winner! Her name is Bustin' Scones!
This pink-nosed beauty is small but mighty.
Click here to watch her race. I especially like her happy canter across the finish-line, ears a flopping!
I think she was the first horse I walked on the day I began this adventure.
I'm fairly certain she's the first one I held for a bath. She bit my thumb. Pretty hard. I'm watching the bruise grow out and remaining hopeful I won't lose the nail. She loves grass. She's super sassy. And she CAN BE sweet as pie when walking – ears flopping, head low, leaning in… an absolutely love. We've had a bunch of magical moments around the shed row. She's my girl.
I gave her a big pep talk on Saturday AM when we walked, mostly telling her to come back safe, but also to let her fierceness shine. I think she heard me.
Meanwhile, our rider tells me she's a thing possessed when you're riding her. Total transformation to fire-breathing dragon. A veritable ball of energy, with the nimbleness to go in any direction at the drop of a hat – she does, she can and she will. The challenge is to stay with her and to not piss her off – neither sound easy. If you watch the race video through the post-race interview, Amira talks about how challenging she is to ride and she really credits the jockey, Benji Hernandez, for doing it so well and really "getting her". Such a big moment for everyone who has spent time with her. She won her first race in 2018… so this one has been a long time coming, and a great culmination to the summer meet for the team.I think her 2020 Summer meet record was 1 3rd, 1 2nd and 1 first – and I know she's dreaming of her next race.
As I return for my last few days of this summer adventure on Friday, I wonder if she'll still be at the barn. With just a few days of racing remaining, I'm sure our shed row will be growing emptier with horses heading back to Belmont and some heading west to Finger Lakes. Scones will stay close to Amira for sure, but I suppose it's possible she'll leave before the weekend. I made sure to tell her how proud of her I was when we walked on Monday… I feel sure she heard me.
Life Lesson from Scones
I think what I most love about this little horse is that she is completely comfortable in her skin, completely her own quirky little personality, and entirely comfortable being two completely different horses – depending on the circumstances. I think she's teaching me (all of us) a lesson.
In the barn and around the shed row, she is truly a love. She is my hands down favorite horse to walk (even on the couple days when she was on her toes), because she just seemed so happy, so there, with me, in the moment – enjoying the walk and not afraid of anything.
On the track, to train or race, she is a wild thing. A woman possessed, a dragon, a beast, a hell-hath-no-fury like a little filly who wants to run. She makes everyone pay attention and suffers no hard handed direction, she demands that all those around her do it her way. And on Saturday, she showed them all what she loves to do most – run and win.
You rock little Scones. You really do. When I grow up I want to be like you!
XO