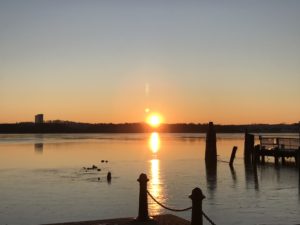 Have you ever had that dream?
You know, the one where you wake up and think you are living in the place you've always dreamed of?
Maven and Magpie have had a recurring version of this dream, year after year, for more than a decade.
As of February 2018, we're dreaming no more!
Early in 2017 we looked each other in the eye and asked ourselves  "is this the year we turn that dream into reality?" The answers was… YES!
Starting in earnest last Spring, we launched a plan to convert our dream to reality and to set the wheels in motion to uprooting ourselves from our beloved home in Old Town Alexandria and to start a new chapter in the community we've dreamed of for so long: Saratoga Springs, NY (aka The Spa).
It's already been quite a journey and yet in some ways we've just begun. We're learning alot (mostly about our selves) as we chart the course, await the good winds, face the choppy waters and look out on the horizon.  With this blog and our website, we hope to share our observations with our friends & family and folks who may be considering their own adventure.
As we launch this website and blog today, February 16, 2018, we're signing the papers on our new home – officially starting the first page in this story and we'll see where it takes us.  We invite you to join us!