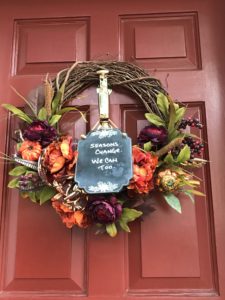 Hi Friends!
Two weeks ago today, when I wrote this, it was a spectacularly beautiful Sunday afternoon on the front porch at Casa Weir and my sense of the change of the Seasons was acute, Fall was in the air and it seemed a good time to change gears. Today, I'm sitting in the lovely living room of a dear friend in the Richmond at the tail end of a wonderful road trip – heading homeward to Saratoga tomorrow.  I've been thinking about sharing this and going "public" with my baby blog throughout this journey.  Perhaps it's just perfectly fitting that I do so today, on the last day of September – the end of the first 6 months of our adventure in Saratoga, with the perspective of my travels over the past 10+ days.
Since I started & wrote most of this post two weeks ago, I've covered a lot of ground and look forward to sharing all of that over coming days.  But for today, I think I'm just going to "go for it" and share this post – which I'll post on FB (gulp!) and make this little exercise/experiment available to all who might possibly care to follow along.
My goals for this "going public" edition of the Maven and Magpie blog has two specific goals:
1. Testing the Technology: To see if my newly installed widget to allow those who want to receive  notifications when I make a new post to receive an email, actually works.  Happily, my two wonderful guinea pigs confirmed that the new "subscribe here" button works.  Thank you Megerly & Padre!  So, if you are inclined to follow our adventure, please consider signing up.   Admittedly, I much prefer the interface & presentation available if you sign up to follow through wordpress (download the app, set up an account, then follow) – this also means you can comment, but if you're not much of a wordpress person or not inspired to set up an account, the button should work just fine.
Or, just visit the URL anytime – there's a little more there than the blog there (and big plans for more), including a list of all our "faves" (mostly foodie spots) in the cities where we've traveled: www.mavenandmagpie.blog
Hoping it does work, those of you who have asked or who might be interested can now sign up in that orange box in the lower right corner of  the page to receive an email when I post something new (you will have to validate your subscription via a link that will go to your email). My goal has been once a week – and I'm usually way over or way under.
2. Setting the Stage: I am delighted to welcome some new friends & family to the world of Maven and Magpie  (B is the Maven, K is the Magpie), what I fondly call my "baby blog" where I've been capturing my thoughts along the way of this journey that the Maven and I have been traveling over the past year+ (almost two).  This is the "rest of the story" beyond the highlights shared intermittently via FB and Insta.  My guess is that this is likely to be the first post for a bunch of folks who may have been wondering "where did they go?" "did they retire?" or "what's up with all the horse photos on facebook?".
If you're taking at look at this little hobby-project for the first time, welcome!  If you've been along for the ride since I started these ramblings – my apologies for a bit of a recap.
So… welcome to Maven and Magpie, the story of our adventure in creating a brand new life and (yes, I know this sounds cheesy) living our dream in Saratoga Springs, NY.
How did we get here? 
I shudder to think of anyone jumping in at this point to read all of my writing since I started the baby blog (first post was from the car in December, driving to the Hamptons for Christmas as we were trying to get a signed contract to buy the house we now live in), but heck – I guess that's what they are there for should you suffer from insomnia. Enjoy! Ha!
Truly, I think those old posts are really there for the Maven and I to have as a reference (basically an online diary) for that day in the future when we wake up and this all seems to have suddenly become "normal"… perish the thought! I just wanted to capture how it happened, what it felt like and what we did/felt/thought/encountered along the way so that hindsight wouldn't dull the edges of our always-dodgy memories.  Primarly, the blog was written for me, and only me, ten for anyone but me, as an outlet to capture my thoughts and feeling along the way.  Secondarily, it was written for the audience of close friends & family who were following along with the step by step of our move, with hopes that it kept those who might care for all the gory details fully up to speed with the bumpy road we traveled to extract ourselves from our deeply-rooted lives in Virginia to plant ourselves in the town we'd fallen in love with over 20 years of summer & assorted vacations.
Certainly the transition to our new life has been a process – like watching a seed take root and grow over time.  The seeds were planted over those many years of long weekends at the Spa from 1999 to 2010 +/-. Then, the shoot really started to grow the summer we first rented our beloved house on East Ave, four blocks from the track with a wonderful screened in porch and room for our friends & family.  Having a place to call "home away from home" absolutely accelerated our ability to envision living here… and made returning home to Virginia harder and harder each year (as many of you know well – having suffered through our whining re-entrer blues). Then, on New Year's Day 2017, we woke up and decided it was time to stop just talking the talk and to start making it happen.  That moment, for me, was very much the "if not now, when? if not us, who?" moment… and we haven't looked back (too many times) since.  I actually think I have photos of that fateful day – I may need to chase them down and add them to this post at some point.
So, now what's left to talk about?  Good question!
As I wrote in my last post, I think we're now entering the 3rd-ish chapter of this story: 1st was the move process; 2nd was the getting settled (plus the fun-frenzy of our first full summer); and now, 3rd, we figure out what real-life looks like and focus on achieving the finer points of the dream.
Way back when my BFF Megerly suggested a blog to me, while we  were walking along a forest path in Burgundy (I have great photos from there too), we discussed the idea of the "lifestyle blog" – a mashup of horses, racing, food, drink, travel – all the things that the Maven & Magpie most enjoy.  Be sure to check out our "Faves" page for our growing list of food & drink we love. While that concept sounded good in France, my reality over the unsuing months has been much more of a "making dreams a reality" story. Looking ahead, I also want to use this teeny platform to share my views on the racing industry – specifically the broad arena of Thoroughbred Aftercare.  And, I also think it's fun to introduce friends to my view of the racing industry and the amazing mosaic it is.  As we continue down this road, I imagine I'll find myself navigating between these various themes and often blending them. We'll see!
Honestly, I don' t know where this will go or what this will be. Acknowledging this gives me freedom from worrying about breaking promises, failing to achieve goals or worrying about not meeting expectations (spoiler alert: this is actually my greatest fear in life).  I just feel that writing is something I've always enjoyed and that I want to find a way to do more of it in this new adventure.  I even have a big ghost-writing project in mind… perhaps you'll hear more about that.
So, having made no promises – I'll tell you no lies.  🙂 I'm a sharer by nature (Captain Obvious reporting for duty), so I'm really very glad you're here.  🙂 I have a lot more to say than even my excessive over-posting on FB and Insta allows me to convey and I'm doing my best to squeeze every drop of life out of this technicolor adventure.  I do like to document the journey – in words and photos, and it would be fun for me to have you follow along.   The more the merrier! 
Without any pressure, please know that I'd love for you to subscribe and follow the journey of the Maven and Magpie with hopes you find something that makes you smile, possibly chuckle, likely shake your head… and maybe, just maybe, consider the mantra we've lived by this year (thank you Maggie Stauffer):
"Leap, and the net will appear". – Zen proverb
XXOO & Namaste,
M.
P.S. I'll often include a bunch of photos with each post!  Many also available on Insta #mavenandmagpie. These below were from my Saturday AM in Old Town last weekend.