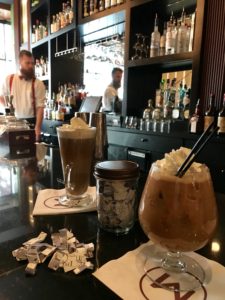 One of our primary goals for Maven & Magpie is to simply share, recommend and promote people, places, organizations, causes, companies, products, possibly a few services and all sort of events we think are worth a look – for their impact, for the people making them happen or just for fun. M&M are often asked for favorite places to go/eat/enjoy when we travel, so this is where we'll capture & share those lists too!
---
Alexandria Faves (as of Dec 2017)
The Majestic Bar – Nicki our bartender rocks!
Hong Kong Palace (Arlington/ Five Corners) – amazing Szechuan, no ambiance
Succotash (National Harbor, across the river from Old Town) – Edward Lee, from Top Chef, dirty chicken, Kentucky Winter (bourbon slushee), jalapeno poppers, fried green tomatoes
Cosmopolitan Grill – new location opened early 2018 on S. Henry
---
DC Faves (as of Dec 2017)
Hong Kong Palace – perhaps the place we've missed the most!
---
NY Capital Region
Food & Drink
Peck's Arcade
Little Peck's
Sunhee's
Hu's House
Saratoga Faves (as of July 2018)
Food & Drink (and this is just the tip of the iceberg!)
Hatties – the fried chicken, the fried okra, the cocktails (painkiller & cocojito)
Hamlet & Ghost  – happy hour margarita & old fashioned, and everything on the menu
Five Points Market – Breakfast Sandwich (say hi to Maura & tell her we sent you!)
Max London's – Breakfast Pizza
Brook Tavern – our local fave, we love the bar  & bar food
Happy Hours (because this is a lifestyle here in Saratoga)
The Ripe Tomato – $5 apps at the bar… apparently all the time. Yum!
Hotels, because people ask us:
---
Las Vegas Faves (as of Dec 2017)
---
Paris Faves (as of Dec 2017)
---
NYC Faves (as of Sept 2018)
The Highline
Momofuku noodle bar, Ssam,
okonomi– amazing traditional Japanese breakfast in Brooklyn (fish!)
gimme coffee – charming, artisanal, hipster cafe in Brooklyn (beautiful cortados)
Tanner Smith's – great bar, fantastic cocktails, terrific atmosphere, high top tables, candles, windows – but dark & cozy too. Highly recommend The Cotton Club (celery, cucumber, vodka) & The Winona (Manhattan meets a bottle of smoke.
---
Denver Faves (as of Dec 2017)
To the Wind
Annette's
Oak at 14th (Boulder)
Tattered Cover
---
San Diego Faves (as of Dec 2017)
---
Lexington Faves (as of Dec 2017)
Buffalo Trace Distillery & Tour
Woodford Reserve Distillery & Tour
---
Sydney Australia Faves (as of July 2018)
---
Podcast Faves (as of Dec 2017)
---
Product Faves (as of Dec 2017)
Beautycounter – skincare (My consultant, Katy, was a student of mine at Oldfields!)
---
Favorite Causes (as of Jan 2018)
---
Capital Region Places to Explore (July 2018)
Because everyone asks the people who are new in town where to go – and we've been making a list of all the places people have recommended to us. We'll start exploring this Fall!
The Hyde Museum – Glens Falls, NY
The Clark Museum – Williamstown, MA
Brant Lake – a few exits north of Lake George
Schenectady (Proctor Theater)
Phoenicia Diner (Catskills)
Hudson, NY – we are big fans, this is one we've explored and gone back to a few times already!
Cooperstown, NY – there's a lovely hotel on a lake that looks fabulous, we've heard good things
Battenkill float from VT
Burlington, VT – we went for a day trip a few years ago, eager to go back
Montreal, QC – only a 4 hour drive, or a lovely train ride from Saratoga
Skaneateles, NY (Finger Lakes)
---
Favorite Quotes (as of Jan 2018)
To whom much is given, much is expected.
Discipline is remembering what you really want.
You always have a choice.
Start where you are. Use what you have. Do what you can. ~ Arthur Ashe
Leap and the net will appear. ~ Zen Proveb
There is no try, only do. ~ Yoda
People with clear, written goals, accomplish far more in a shorter period of time than people without them could ever imagine. ~ Brian Tracy
Regret for the things we did can be tempered by time; it is regret for the things we did not do that is inconsolable. ~ Sydney J. Harris