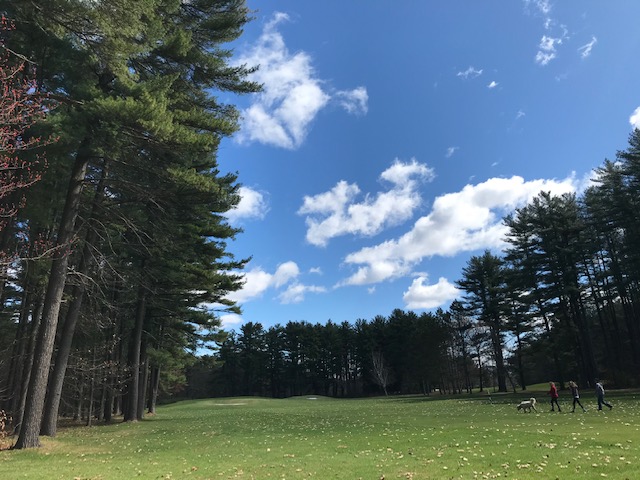 Vivid Memories
Despite the frosty early morning temperatures, the birds remained committed to informing us that Spring is here with their enthusiastic singing starting about 6am. Their gentle, but insistent chirping was soon followed by the playful pouncing of our early-bird Mookie, punctuated by her trademark velvet-paw poke to encourage us to start to stir. Thanks to daylight savings time the sun herself joined in the parade as she rose over the Saratoga racecourse (6:17am) to our east and painted the walls of our bedroom with dapples. The universe was making itself heard, loud and clear, it was time to get up and see what the world had in store.
With a profound sense of gratitude to be waking up in our safe & cozy home, healthy, safe, with our beloved furry children, and all of the creature comforts we've accumulated over so many years. Slowly it sunk in that we were in Saratoga Springs, the very town we'd dreamed of living in for so many years. Our good fortune was, and remains, bewildering.
As we shook off the last gauzy layers of sleep, the butterflies began. We began to remember that the day ahead was one rife with uncharted waters, uncertainty and a myriad of unknowns. While we felt much like the people we'd been the day before, the world around us had shifted and our day's challenge would be to find our purpose, our plan, our true north to navigate whatever the unstructured hours and days and months ahead might hold. We had taken a leap and now it was up to us to make something of the new day, the first day of the rest of our lives. Everything was possible, nothing was promised and the choices were ours to make.
The question is… what day was it?
An Anniversary
Two years ago today, April 11, 2018, the Maven and I woke up for the very first time, together, in our new home in Saratoga to begin this new chapter in our lives. We were grateful to be in our new home, with our cats, our possessions and to be here together. Our leap was complete. Our house in Alexandria was sold, our previous careers had concluded, our friends and family were supportive, but far away. It was up to us to chart our path, to make choices, to find our way and to realize the potential of this new life. It would be the first day, of many, that would test our sense of self, our resilience, our patience, our vision, and our faith.
By now, I trust you see where I'm going with this little game. The passage above describes that date, and today. Deja vu!
Looking Back and Looking Forward
So much has changed, and yet, so much seems so similar. We arrived here in our new life with a total of 3 friends (our beloved realtor + our amazing former landlords from our summer rental) and with one part-time job between the two of us. We were excited, we were hopeful, but we were absolutely putting on a brave face and marching forward into an unfamiliar new world.
The gifts we have found in Saratoga are simply countless. It was the horses who brought us here, and it is to the horses to whom we owe our endless thanks for the people – the friends and colleagues – who have made our life here such a joy.
Professionally, we marvel at where we've landed.
The Maven has found his place amidst a group of individuals who have tapped into his unique talents, who appreciate his gifts, and who challenge him to apply these gifts to the sport he loves so very much.
For me, to speak for the magical and majestic animals who have made me who I am (the good parts) is a calling that I know to be my highest purpose. On behalf of these creatures, and the good they bring to our world, I bound out of bed every day – eager to do as much as I possibly can to carry their message and engage those willing to hear it. I believe they deserve no less.
Over the course of these two years, we put one foot in front of the other and created the life we'd dreamed of. Truly, we shake our heads in amazement every day.
What comes next?
So, now, the cycle begins again. As we start year 3, we take stock of who we are, we give thanks, and we "make the leap" once again into whatever this new world – changing by the day – may hold in store. This time we have our home, our friends, our careers in place to support us, but the world has shifted beneath our feet. Nothing can be taken for granted. Each of us around the globe, must face the same question: "What will I do with the day I've been given?"
As we've done before, the Maven and I will put on a brave face and go face the world outside our door. For all the uncertainty that lies ahead, we can rest assured that the future will test our patience, our resilience and our sense of purpose. It is up to each of us to look inward to find our vision, take the gulp of air and jump. Heck, practice makes perfect. Right?
Look out world, here we come!
Namaste!