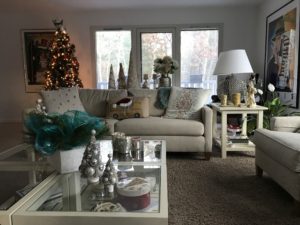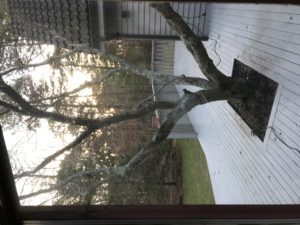 Good morning! Having spent a fair amount of the 9 hour trip playing with WordPress & GoDaddy to "lightly launch" Maven & Magpie, it's a treat to start the day with something I can log in to and post. Yay for the small win! Much more to do once I can get my laptop on WiFi today – but for now, a start!
Thoughts this AM –
Grateful to have arrived here in this Happy, Loving & Christmas-Spirit filled home at the end of a long rainy day – thankful for Bobby's safe & steady driving.
Grateful to know that all of my family and closest friends are healthy and happily tucked in where they want to be – Mom with friends in San Diego, Dad with Marley & lots of snow in SLC, Susan in Atlanta preparing her candelaria, Karen & Stuart and the kids enjoying a sunny Florida Christmas – and dearest friends with their loved ones in Paris, CT, MA, PA, NY, VA, DC, CO, CA, AZ and far beyond.
My heart is with those facing losses at this holiday season, and those who have lost loved ones and precious pets & homes over the course of the year. May memories of past Christmas Eves comfort them, while I know those bittersweet memories feel more bitter than sweet right now. Evelyn and Leslie I am especially thinking of you. ❤️
And on to the blog, a couple simple goals I have in mind.
1. Share my observations along the journey of everyday life – kicking off with the big move Bobby & I will be making this year.
2. Share our adventures – largely along the Food & Travel lines, with a big dose of Thoroughbred Racing & Saratoga Lifestyle.  Somewhere in this goal lies the original inspiration for the Maven and the Magpie – Bobby's maven-like talent for picking & finding great spots to eat, drink & enjoy and my Magpie-like desire to share our discoveries so they can enjoy them too!
3. Promote places, people, causes, products, services, events, activities and organizations I believe in and think are worth the time & money for others to check out. A curated set of things this Magpie wants to support by spreading the word.
I can't  wait to get started…in earnest. But first, coffee & a much anticipated chat with Meg in Paris when she gets home from shopping for Buche de Noel…while enjoying the pretty & peaceful scene here on this beautiful Christmas Eve AM.
Wishing everyone a joyful, peaceful & restorative day at the end of the hustle bustle & hurry that always precedes this day. Phew!!  ?☃️?☃️?