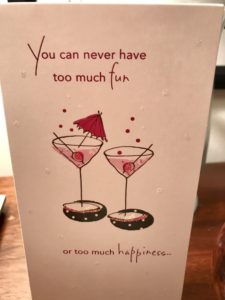 Hi Friends!
Sort of feel like you just can't get rid of me, doesn't it? Well, as I have often promised/threatened, I am very hard to "shake"…and I do hate to leave loose ends. So, for a whole host of reasons, I am back in the Commonwealth for what really will be my last hurrah – for quite a while. My goal is to start snapping happy reunion pics at The Spa – soon!
Meanwhile, I must say it's really fun to be back – with no responsibilities! Old Town is actually way more fun when on vacay (which is what I am calling this). My agenda is chock-full of all my favorite people & places (and a few logistical to dos too). Lots of pics below.
Based on a wonderful nugget of very happy news (which I promise to share in next post, in detail), this week has happily become a pure fun, farewell tour of story telling.  Admittedly, I'm doing a lot of talking about myself, and I think I might be just about at the point when I am growing a little weary of the telling (although certainly not of the tale).  The good news is that every time I tell the story of our journey over the past 16 months, I feel a little teeny bit more like I'm actually talking about myself and Bobby – rather than telling a happy fairytale about someone else.  My gratitude for all the positive responses, affirmation, congratulations and encouragement from the folks who have so kindly heard me out over these recent days is complete.   I'm especially gratified and humbled by the handful of folks who have told me that our story is giving them hope, optimism and inspiration… that all the pieces really CAN fall into place, and that it is possible reinvent.
I hope we'll remain a symbol to guide our friends who are considering their own big changes or who are pursuing their own big goals and dreams. Please don't hesitate to reach out any time if I can offer a pep talk, encouraging word or listening ear as you tackle something life-changing, I'm standing by to cheer!
Meanwhile, as I wind down this whirlwind week of visits & wonderful moments with dear friends, I'm excited about a shift of gears toward our fabulous weekend of girl-time on the Eastern Shore.   Kendra and I are awaiting the arrival of Suzie Q tonight, then the rest of our travelers tomorrow, and we'll all convene Chez Wolf tomorrow!
And then, before I know it I'll be rolling back up the road – for "reels" & to get this new adventure moving forward.  Eager to get started, in earnest with building this new life of ours.
Hoping you each enjoy the Spring flowers, sunshine and energy of the season!
XXOO