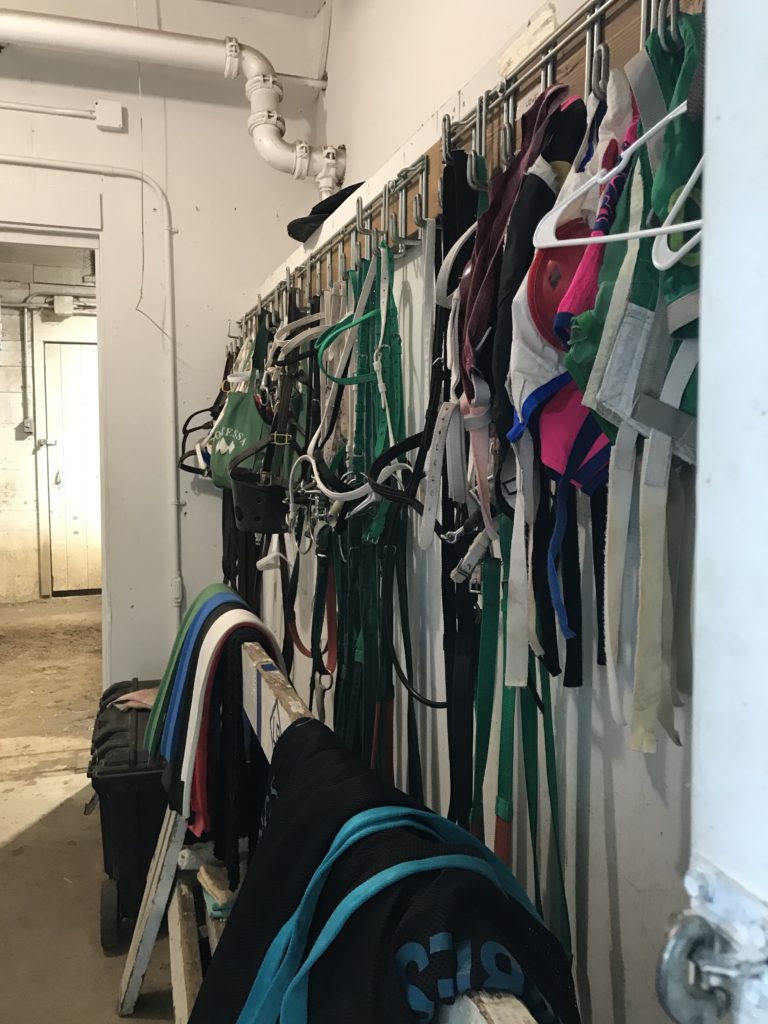 frequently heard phrases
I love language, phrases, vocabulary and accents. Perhaps that's why I found myself teaching Spanish all those years ago at Oldfields, and I continue adding to my vocal list on the racetrack every day. As we've settled into our new home here in Saratoga I've been enjoying noticing some of the very subtle examples of the regional syntax. One of the phrases I realize I'd never heard before, but hear all the time now, is "Not for nothin'". I credit our dear friend Fran LaBelle for likely being the first to say it to me, but I realize that it's nothing short of ubiquitous. I have no insight into where it comes from, but it makes me smile. New Yorkers!
Back to the backstretch, here are a few phrases that punctuate the mornings of a hot walker:
"Hold Up!" – used in a variety of situations, synonym for "whoa/ heads up", used to stop other horses around you because whatever you are doing needs to go first. Interesting to me, because it is the "Esperanto" across the English & Spanish speakers to communicate perhaps the most important request: WAIT/ STOP/ LOOK OUT.
"Coming Out" – the call of the exercise riders as they are approaching the gate on Nelson Ave, to cue the NYRA security guards to stop traffic so the horses can cross the road
"Coming In" – a bit less frequent, but as a rider is coming around the shed row and making the final turn into the horses stall, this is called to alert all in the barn (especially groom & hot walker, who should already be there).
And then, the one that I guess is just the thing that has been said to every hot walker since time began… and which I had absolutely NEVER heard before starting my education on the backstretch:
"Keep Turning Left!" (Or "Turn Left, Turn Left").
John Dallas, you get credit for being the first. Since then, Dr. Reid McLellan of Groom Elite, and most recently, Dave Grening. What's up with that? While it's certainly a true statement – it is absolutely what "we" do, for hours on end, walking in circles, turning left constantly, I'm just not sure I understand why everyone keeps telling us to do it. A light hazing ritual perhaps? Funny! Just a racetrack thing, I guess?
Hotwalking fun fact: Cyndi Lauper
Over the past few weeks, someone had mentioned to me that Cindy Lauper was a hotwalker for a short time. Just now I ran across an article about her experience at the racetrack… and chuckled to see who had written it! Enjoy
From Hot Walker to Rocker, Cindy Lauper Still is Unusual (2003)
Hotwalking 201: The Afternoons
As green and novice as I am, I sort of seem to have passed a test last week. To be clear, this isn't some incredible accomplishment. There's no risk that I'm considered a hotwalking prodigy, but the labor shortage is VERY SEVERE on the backstretch. So severe, that many barns simply don't have enough help to send the 2 people who are allowed (max) to accompany each horse to the paddock for the races in the afternoon (groom + hot walker). Cue – my new gig!
As 9pm approaches, I think I'll save the "intro to afternoons" for my next post. Who knows? I might get to walk one tomorrow!
For now, signing off – 4:30am comes quick!