9pm – the witching hour is real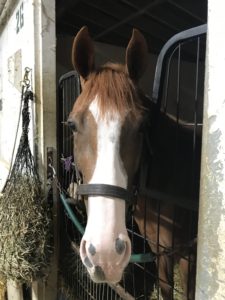 Hi Friends!
Every day that I am at my new & very part-time new job as a hot walker, I think about the lessons I am learning and the observations I want to share… and I look forward to sitting here at my laptop to share them…
And then, suddenly, it's 9pm and my brain stops working, I can't focus or even finish posting my daily pics on Insta. It's a wall that takes no prisoners, and even as I type this I am on borrowed time. It struck me today as I was enjoying a chat with a new acquaintance while waiting for my pizza at 8pm that I was starting to look at my clock, racing the minutes to get home, to eat dinner, to try to post or write, and get in bed before 9. The analogy that popped to mind was the vampire racing to get "home" before the sun comes up and he or she turns to dust.
I feel you vampires, I really do!
The Why – i.e. Why am I doing this?
This is the topic I've wanted to write about, soonest, because it's the question I'm asked most often. (And on an unrelated note, I'm going to try to get myself to write more "single-topic" short posts, so I can keep up over the days ahead – wish me luck.). So, just to get this rolling – here it is;
To Learn
To Be Helpful
To Grow/ Test Myself/ Prove My Capacity
To Experience Life through a Different Perspective
Can't wait to ruminate on each of these… but for tonight, I'm going to try my new short form approach. And to add in a few photos.
List of Names to Thank
Amira – my boss, for giving me this opportunity to learn & help & grow
Robert, Tito, Reena and Matt – the squad
Dave – NYRA Security (and Tracy too)
Maria – hiring me to walk in afternoons
Alfonso – took me under his wing for my first walk in the afternoon
Amado – 2nd groom to take me to the paddock in the afternoon, and even invited me to join him tomorrow (only daughter is Katia, 20)
Emilio – Linda Rice' hot walker (gave me a hash brown)
Luis – Vet for our Shed Row
Keith – 3rd groom to take me to the paddock in the afternoon, cool as a cucumber through our unfortunate series of events with Sea City