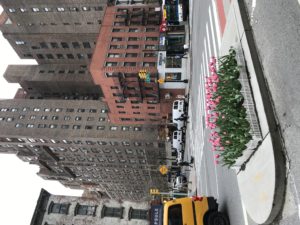 Happy Saturday Friends!
I think it's officially day 11 of the new adventure – as we started the "official" count on The Maven' first day after wrapping up his govt contracting career chapter and the day we drove north to start the new adventure, together.  We're not quite two weeks in, and we're not yet settled into any "real life" routines, but we sure have been having fun.
It's a sort of weird & wonderful mashup of vacation+ stay-cation + unemployment/sabbatical…and we promise, for those who are worrying or wondering, it won't go on much longer – but we are doing our best to make the most of it while we're in it!
Highlights have included several fun Happy Hour excursions (Forno Bistro, PRIME, Amigos Cantina), a bunch of homemade lunches at home, several yummy & homey dinners a la Chef B, getting started with The Crown, struggling through early & exhausting CAPS games (Game 5 today!), walking to Five Points, shopping for house stuff, a lunch at Cracker Barrel, a trip to the "big" mall…and waking up every AM to find that it's not all a dream.
Then, because even dreamers like us enjoy a change of scenery, and M had an appt scheduled in the city, we decided to make our first-of-many quick excursions to the Big Apple. We took the noon train from Albany on Thursday, and are heading back upstate this AM (Sat), so I can load up the Berry Bu and head south to VA for the truly "last hurrah" of visits before the new normal arrives in our Saratoga lives. (HINT: Big work-related announcement coming soon – no later than 5/1. 🙂
Our less than 48 hours in the city were chock-full of food, family, food, cocktails, friends & food. All delightful! I'll add a few to my NYC faves list (insert link here), and list below – with pics to follow.
It remains amazing to us that we've made this happen – we are loving our new adventure and we so excited about the opportunities that this move will give us to see loved ones "up here" more often.  Of course, the trade-off is that we'll see our DC/Virginia dear ones a bit less (until they come visit!), but with that in mind I have scheduled a nonstop, action packed agenda of visits with an all-star list of friends while I am in town over the coming days.  Stay tuned for lots of pics & a big wrapup post next weekend!
Enjoy your weekend – I hope it's sunny & Springy wherever you are!!
XO
Foodie highlights of this trip:
okonomi– amazing traditional Japanese breakfast in Brooklyn (fish!)
gimme coffee – charming, artisanal, hipster cafe in Brooklyn (beautiful cortados)
Tanner Smith's – great bar, fantastic cocktails, terrific atmosphere, high top tables, candles, windows – but dark & cozy too. Highly recommend The Cotton Club (celery, cucumber, vodka) & The Winona (Manhattan meets a bottle of smoke.
Words to live by "you can't be half a gangster".